One cold February day, I found myself at the computer, dreamily clicking through a photo gallery of pancakes. I stared, enraptured, at combinations like fresh coconut batter + kumquat syrup + bruleed bananas. I fantasized about trying Japanese pumpkin pancakes with pumpkin seed streusel and warm maple butter. A single tear trickled down my cheek when I read, "If pancakes were a churro, they would be like this." Later that night, I laid in bed and paged through the #pancakes hashtag on Instagram for nearly an hour.*
To those in New York, it was pancake month at Clinton Street Baking Company. To those not (e.g., myself), it was torture.
On our recent trip, however, we made up for lost time/calories by breaking fast in and around the East Village.
* My Instagram-browsing also led me to discover #porncakes, which is (mercifully) more about food and less about freakiness.
Clinton Street Baking Company
Unfortunately, by the time we visited the beloved brunch spot, Clinton Street Baking Company had long ceased serving their limited-edition flavored pancakes. No matter — in order to prevent a yuppie uprising (yuprising?), their signature stacks are available year-round. Tempted as I was by their banana walnut and chocolate chip variations, I went with the fan favorite. The blueberry pancakes, griddled with fresh fruit and topped with wild Maine blueberry jam, were perfection: decadent and fluffy, luscious and light. The maple butter on the side took the already-buttery stack over the top. I only wish there'd been more compote to go around; the tartness of the berries contrasted so well with the richness of the batter.
For a savory contrast, we had the Southern breakfast, a traditional breakfast plate (cooked-to-order eggs and sugar-cured bacon) served with more regional specialties. I found the cheese grits lacking in flavor, though the fried green tomatoes were exceptional. Jay, on the other hand, dug in and declared the entire dish delicious.
It's clear to see why people line up for hours for a table at Clinton Street Baking Company. Fortunately, the restaurant makes the brunching process pretty painless via automated texting system (through which you can check your place in line); they also helpfully offer their daytime hits for dinner. On the Wednesday morning we stopped by, Jay and I had just enough time to grab a coffee and stroll around the neighborhood, during which we bookmarked a few other breakfast spots for future visits…
Wafels and Dinges
Pancakes aren't the sole proprietor of my heart — waffles also take up a good amount of real estate in my map of emotional eating, too. I'd been eager to try Wafels and Dinges since I'd first heard of it back in its food truck days. Now, having attained enormous success, it operates several vehicles around the city and a new brick-and-mortar in the Lower East Side. We stopped by for a miniature S'Mores creation, which in retrospect, might've been a shade too much. While the toppings were great, they prevented me from really tasting the Liege waffle base for which the shop is famous. Still, it wasn't a bad way to start the day. Not at all.
Kossar's Bialys
On the opposite end of the spectrum of storefronts? Kossar's Bialys, a grab-and-go specializing in these baked (not boiled) goods often mistaken for filled bagels. The atmosphere, like its spare interior, was delightfully no-bullshit. I walked in, cluelessly Californian, and scanned the empty shelves before leaning in and asking, conspiratorially, what was recommended. The surly lady behind the counter snorted and threw her hands in the air. "Depends on what you like," she barked. Clearly, this wasn't a Whole Foods in San Francisco — this woman was not going to hold my hand and explain subtle flavor variations, especially when the product was so straightforward. I mentally flipped a coin and left Kossar's with an onion bialy in hand.
While I wish the bialy was an incredible food discovery from a legitimate NYC hole-in-the-wall, it just didn't do it for us. The bready outer ring was just that — bready — and the flavorful center didn't redeem the remaining plainness. I must also 'fess up to a bias; I enjoy most baked goods warm and/or toasted, which ours most certainly was not. Perhaps our bialy never got a fair shot, as it simply went stale and untouched in the back of the refrigerator after initial tasting. I wouldn't be averse to giving one of these another chance, but as it is, it was unimpressive.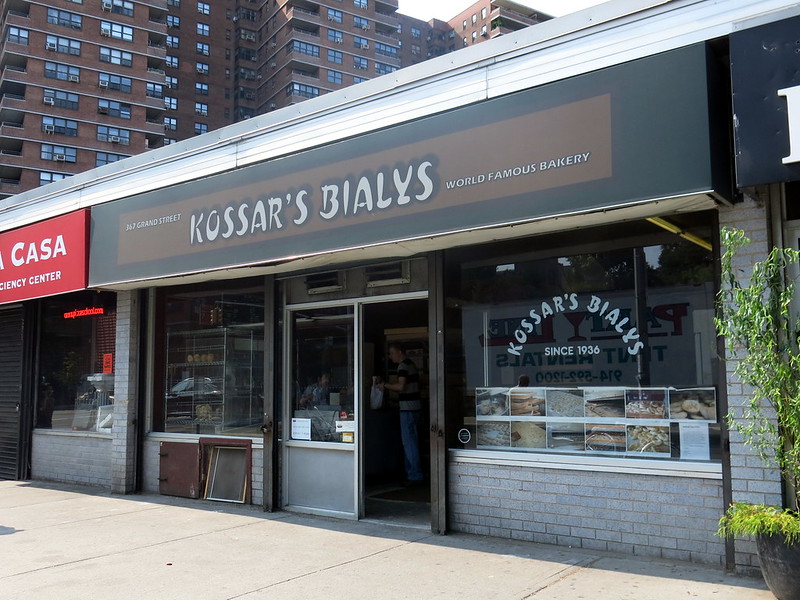 Essex Street Market
Of course, we couldn't leave New York without trying a proper bagel. Last time we were there, we'd stopped by the deli mecca that is Russ and Daughters for a lox and cream cheese classic. This time, I swung by a very different sort of institution: Essex Street Market, an indoor, warehouse-like space crammed with local and niche food shops. The panoply of proprietors includes cheesemongers, butchers, ethnic grocers, restaurateurs — even an elderly barber with slick, ageless style.
Davidovich's Bagels
At Davidovich Bakery, I picked up an everything bagel — toasted, thank you very much — stuffed with cream cheese. While solid and satisfying, it didn't make us believers in the oft-extolled superiority of the New York bagel. Perhaps it's simply because we West Coasters don't know any better, having lived out our lives largely sans boiled bread. I'm not convinced this is the case, however, as Jay and I both counted bagel shops (branded as being "New York" style, natch) among our favorite haunts in high school. I do, however, fully support the idea of bagel-and-cawffee combo being a cornerstone of NYC culture. In that sense, Davidovich handily, happily fulfilled that experience for us.
On my way out of Essex Street Market, I couldn't help but pass by Shopsin's General Store — a diner I'd been dying to try. This hole-in-the-wall is legendary for its sassy, DGAF owner-chef, Kenny Shopsin, and his mad genius. No, seriously. Look at the damn menu. In the weeks leading up to the trip, I'd spend interminable stretches of time poring over the menu, wondering if I should order "sluttycakes," "blisters on my sisters," or one of dozens of combination plates. Needless to say, I was heartbroken when I realized that the Shopsins would be on vacation while we were on town. You can't have it all, I guess… or at least, not in one go. I'll just have to return to NYC for more morning meals.
Clinton Street Baking Company
4 Clinton St
New York, NY 10002
clintonstreetbaking.com
Wafels and Dinges
209 E 2nd St
New York, NY 10009
www.wafelsanddinges.com
Kossar's Bialys & Bagels
367 Grand St
New York, NY 10002
www.kossars.com
Essex St. Market
120 Essex St
New York, NY 10002
http://www.essexstreetmarket.com